Van-Sales

Developer:
Mobile Affairs
Play video
Dynamics Mobile Van-Sales is a standalone solution that covers scenarios such as: Direct Store Delivery, Home and Office Delivery, Pre-Sales, Direct Sales, Collections.
The app is designed to improve operations related to wholesale, distribution and delivery. It allows organizations to automate the activities while sending vans, trucks or other vehicles in the field to visit customers and deliver goods. Supervisors may schedule routes, create campaigns and monitor in-field activities in real time, while agents follow planned delivery routes, visit customers and issue invoices right from their mobile phones and tablets without the need of Internet connection.
Demo
Play video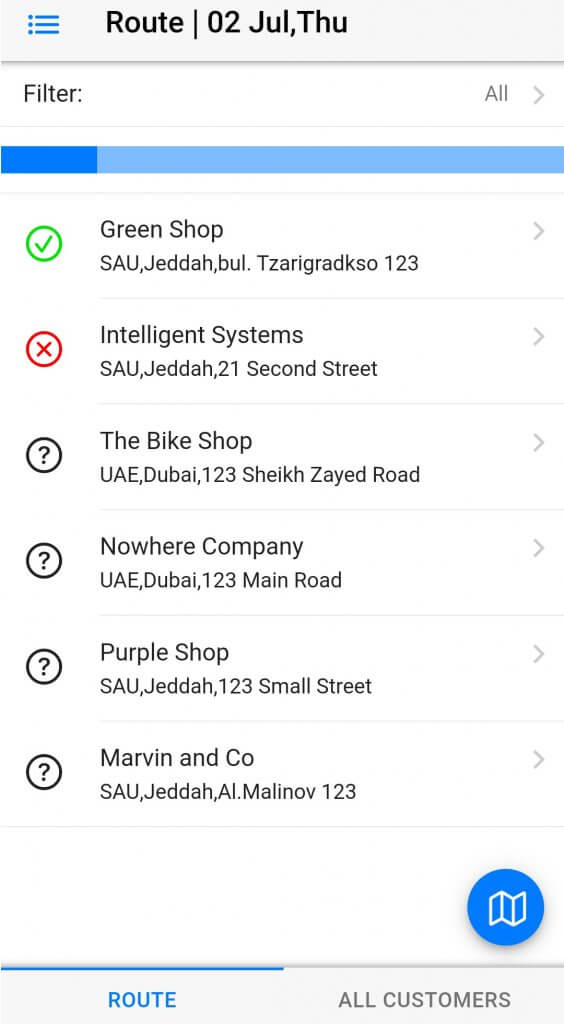 Version 3.0
Deployment type:
Integration:
Microsoft Dynamics
,
SAP
,
Oracle
,
Sage
,
Infor
,
Epicor
,
Industries:
Manufacturing
,
Distribution
,
Wholesale
,
Retail
,
FMCG
,
Consumer Goods & Electronics
,
Food & Beverage
,
Pharmaceutical
,
About the product
Intended for DSD, HOD, DS  and other operations.
Dynamics Mobile Van-sales is applicable to a variety of mobile sales and delivery scenarios and operations such as Pre-sales, Van-sales, Direct sales, Direct Store Delivery, Home and Office Delivery, Payment collection activities and more.
Back-end (office) and mobile-site functionalities
For people in the office (Supervisors) who administer users, plan routes, define campaigns and visit types, create questionnaires, visualize reports and follow-up on mobile agents' activities in real-time.
For Mobile agents who follow the routes and execute the tasks assigned to them by Supervisors.
A standalone solution that can be integrated with your ERP
Dynamics Mobile Van-sales is a standalone solution with own back-end and database, however it can be connected with your ERP (e.g. Microsoft Dynamics, SAP, Oracle, etc.).
A cross-platform mobile application
Runs on Apple (iOS), Android and Windows 10 devices.
Online as well as complete Off-line mode
Dynamics Mobile synchronization technology allows the mobile app to store and consume business data locally on the device, so Dynamics Mobile Van-Sales can run in complete off-line mode, eliminating the need for permanent Internet connection.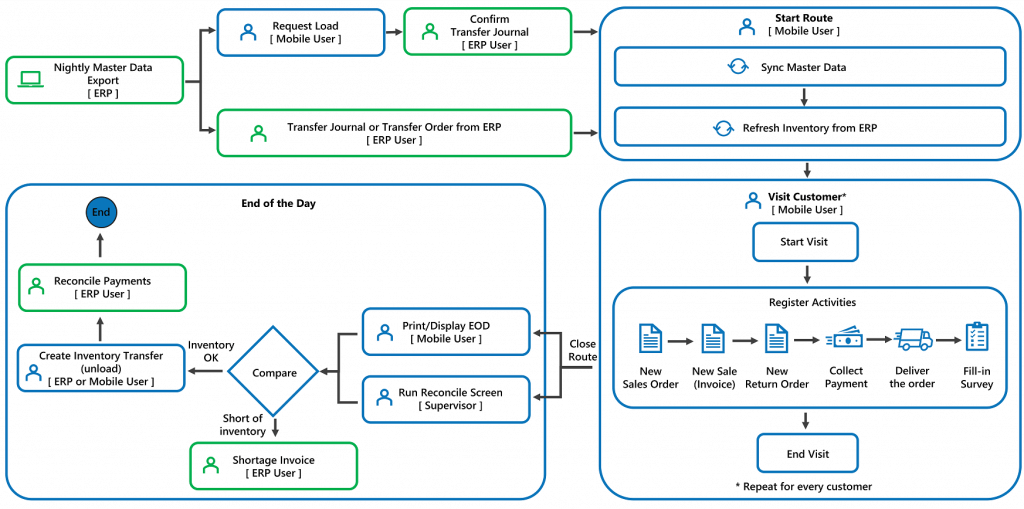 Main Functionalities
Supervisors plan sales routes per specific period and assign them per specific mobile agent. Once done, Dynamics Mobile applies automatic route optimization so activities can be completed in a faster way. Estimated distance and ETA (estimate-time-of-arrival) per visit are provided as well.
Define areas (geographical coordinates) on the world map in which Mobile agents of a specific office/division can perform assigned activities. Setup geofencing notifications in case a mobile agent deviate out of the predefined territory.
Dynamics Mobile supports one-time, periodic (e.g. weekly, monthly) and campaign types of visit, and the following tasks: Sales order registration, Sale, Delivery of a previous order, Return of goods, Collection of payment, Survey (questionnaire), Item comparison (e.g. prices, quantities, capacities), and more.
Mobile agents may see customer number, title, address, credit balance and credit limits as well as open invoices and last orders.
Mobile agents can register invoices directly from the mobile devices without a need for Internet connection and still have the mobile app properly calculate order totals based on the customer agreed prices, discounts and current promotions.
Cash, wire transfer, cheque payment collection
Mobile agents may see due invoices on the mobile device and register payment collections via cheques, wire transfers or cash. The collected payments are automatically sent to the database/ERP and settled in the payment journal.
Mobile agents may print invoices or payment receipts from their mobile device via Bluetooth printers right there on the field.
Credit balance, credit limits, dues
Mobile agents may be blocked for visiting customers with due invoices or exceeded credit limit.
Inventory visibility and tracking
Mobile agets may check the inventory loaded in the truck by items, lots (batches), serials. Inventory levels are updated on each sale made.
All transactions are augmented with GPS coordinates and rendered on the world map, allowing Supervisors in the back-office to track the fleet in near-real time.
All mobile transactions like orders, invoices, payment collections, deliveries and others may be observed by Supervisors in real time on the world map.
Various heat map reports are available, showing the places in the world where most of the business takes place in terms of money and activities.
Fleet route compliance analytics
The system automatically registers and analyzes the planned customer visits of the fleet and measures their compliance with the plan.
Both Supervisors and Mobile agents may run end-of-the-day reports anytime and see current progress. The EOD reports contains full data about daily sales, cash on hand, inventory levels and other information, and can be used for daily reconciliation, once trucks are back in the garage.